I am beginning a page on clothing because there are a lot of questions about authenticity. Many auctions on ebay that list boxed 'kids with handmade clothing are selling as "never removed from the box", which indicates that the clothes are original CPK clothes. Many CPK collectors like to collect the different types of CPK clothing and it's very important to them that they are all original. If many people make clothing and sell them as original CPK, even by taking a tag off of CPK clothes and sewing them onto their handmade clothes, it devalues the original clothing and adds a lot of confusion. Also by doing this, it is copyright infringement.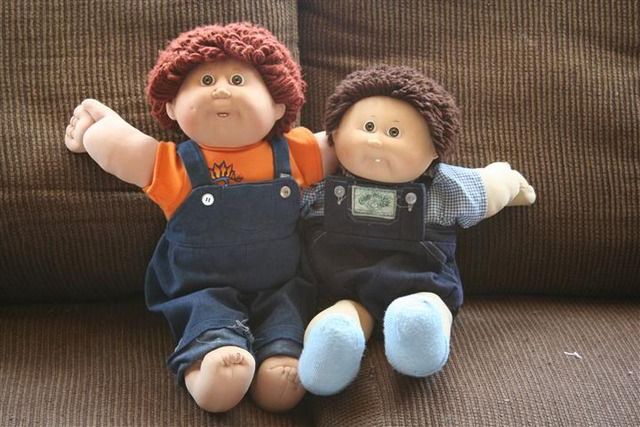 The overalls on the left are handmade. The romper and shirt on the right are authentic cpk.
Many outfits had tags inside, but some foreign factories, such as Jesmar, didn't. Read more about
clothing tags
.
In
1983
Coleco 'Kids had many different types of clothing introduced. (As I complete each type with pictures and information, I will link them here.)
In
1985
some new clothing styles were introduced:
Specialty Sports Outfits (some packaged separately)
In
1986
, these outfits were introduced:
In
1987
, these outfits were introduced:
Information obtained here may not be complete and is for reference only. For more information, here are some helpful sources:
http://www.opencabbage.com
http://thecpkcc.freeforums.net
http://s1275.photobucket.com/albums/y452/TheCPKCC/